Building Foundation for Success
Competitive Examinations Focus
In India, where the competition is tough and aspirants many, it is all the more important that the students need to be strong in foundation, well-prepared and above all, give their best in those crucial 180 minutes of their lives.
There is a simple and very effective formula for success to land into an illustrious professional career – it is joining a one-point programme "Integrated IIT and NEET Coaching from class VI to XII".
Velammal's Competitive Edge Programmes are unique in themselves as they ensure the best possible result depending upon the basic potential of the Student and his / her ability to work hard.
Velammal believes in the dictum – "strict discipline and a confident mindset" is the key for success.
Velammal IIT and Medical Foundation has been conceived with a one-point agenda to build positive traits in the students from the foundation stage that gives them an edge in their pursuit of career goals.
The Integrated Medical and Engineering Coaching Programmes offered by Velammal is a boon for the talent pool in the region.
It offers exclusive FIITJEE Integrated programmes for the XI & XII Grade following JEE and NEET Syllabi.
The course is a multi-pronged approach to attain the only goal – excellence to join any one of the premier league institutions in the country like IITs, NITs, BITS, IISC, AMFC, AIIMS, JIPMER and other reputed Medical and Engineering Colleges in the country.
The PrepVel programs, for students from VI Grade onwards, is to provide futuristic and result-oriented coaching that paves the path for success in this highly competitive world.
The exclusive PrepVel programs will prepare students with a keen mind, focused attention; who are quick on the uptake with persistent efforts.
The single point focus of the Foundation is to groom and mould the aspirants to help them in cracking the exams like JEE (Main and Advanced) and NEET in their first attempt.
PrepVel
PrepVel is a dedicated module for the aspiring students right from VI Grade onwards, so as to pave a path for their success and help students realise their dream careers.
FIITJEE
The Velammal schools in association with FIITJEE promotes the preparation of students to give the competitive exams for entry into renowned higher education institutions.
Opportunities Create Success
The distinctive advantage of the programmes offered by Velammal lies in planning, implementation, well-defined teaching-learning approach and value-added resource materials. The students on joining the course are given orientation programmes to understand the course as well as the systematic approach adopted, for better results.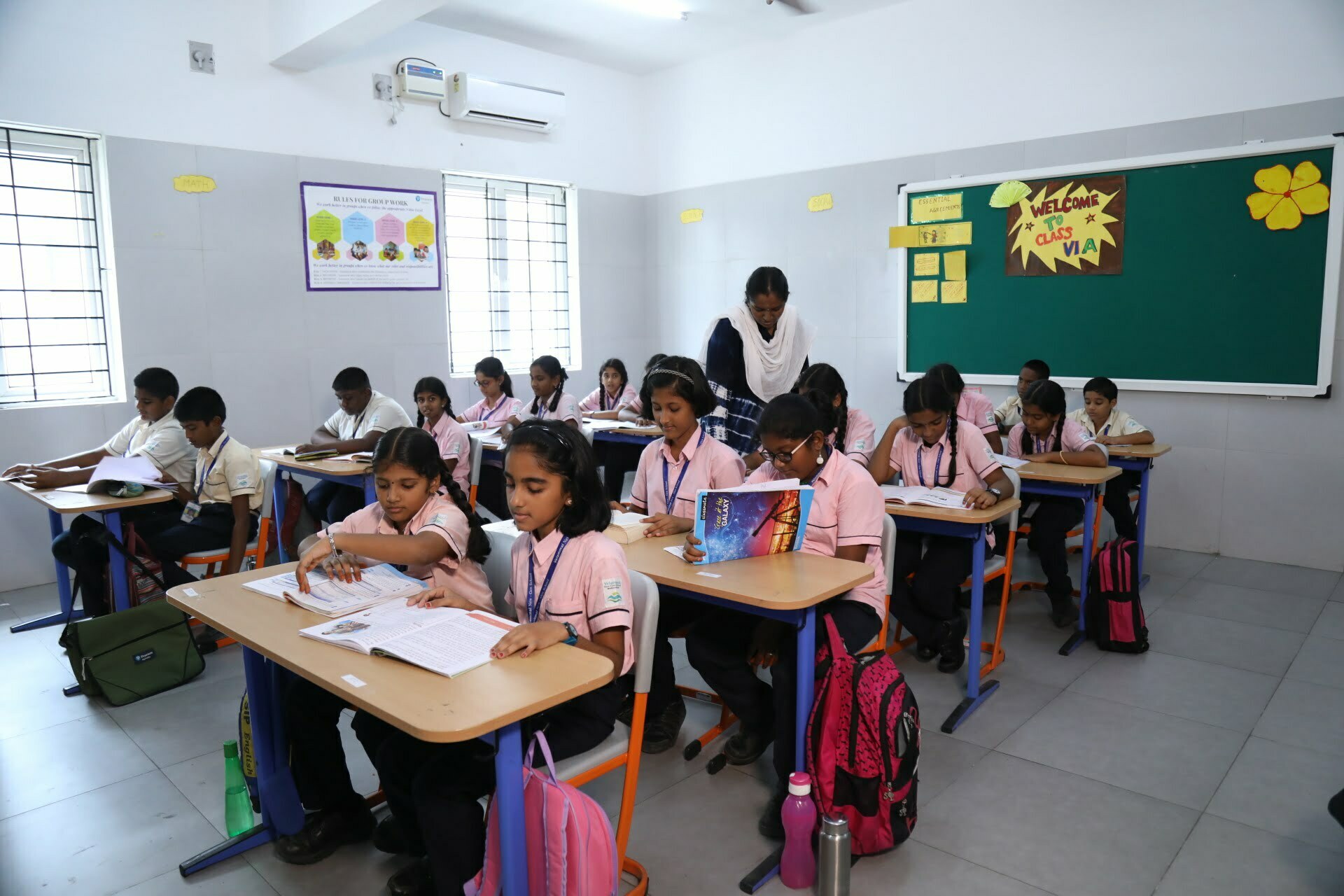 Integrated study plan

Board/ Competitive studies

Controlled & executed by specialists

Chapter Practice Problems

Workbooks for Home Assignments

Regular feedback & Test Analysis Sessions

Predictive Success Analysis Index

Thrust for students to participate in CCA, Sports, Social activities
Track current standing

Prescribe coverage index

Map success of completion

Design study schedule

Identify loopholes

Analysis

Difficulty level

Scope of Improvement Report

Concept level

Question Type

Relative Performance
Excellent Classroom/ Online Teaching

Rankers Test Papers Package

Tab Based Assessment

Learning Improvement Program

Practice Gazette

Sure-Success Study Material

Personalised Attention
Validation of our Philosophy
Our institutional breadth spans from Kindergarten (KG) to Post-Graduate levels. With focus on evolving our teaching and learning practices to meet the best of global standards the group pioneered the Velammal New Gen Edu Network mission.
Mr. Varun Bansal

Velammal Vidhyashram, Surapet

"I am really happy that I shortlisted VNGK School for my child. Curriculum is excellent. Every day, the child is learning something new and exciting. Complete faculty is very warm and polite."
Ms. Nupur Aggarwal

Velammal New Gen School, Kelambakkam

"Me and my husband are so grateful for all that VNGS has done for our daughter, Aashna Aggrawal. She has had and continues to have a wonderful, nurturing pre-nursery experience. Proper and timely communication is shared with the parents."
Ms. Aditi Khurana

Velammal New Gen Kids, Somangalam

"Fantastic school! The teachers are Professional, caring and well organized. The admissions process was outstanding, they really care and truly want the best for your child. World-class infrastructure."
Mr. KG Venkat

Velammal Matriculation, Paddur

"Velammal New Gen School is one of the most innovative schools in Chennai. The school has a balanced approach towards co-curricular and academics. I personally like my son's teacher who has an excellent approach towards her teaching practices."
Mrs. Geetanjali Bose

Velammal Vidhyashram, Adhanur

"As I have observed, the Velammal team makes a really good effort in making children understand and upgrade their skills. I have sometimes observed and mostly been updated by Aditi on various talks and activities taking place in her class."